MRI and DR Systems
High mobility for patients in rural areas
Performing regular mobile patrol diagnoses in different villages
MMIS-X is a mobile DR System co-developed by Time Medical and Chery Automobile. The system is designed with advanced technologies such as artificial-intelligence-based deep learning algorithm with data processing system and teleradiology cloud platform, and is constructed with the latest in material technology such as thermostatic and moisture-proof materials and advanced radiation shielding technology.
Incorporating advanced AI technology into medical diagnosis, the MMIS-X helps assist hospitals and health organizations in developing countries and countries along the Belt and Road to achieve comprehensive medical diagnosis in remote areas where medical examinations are not easily accessible and available.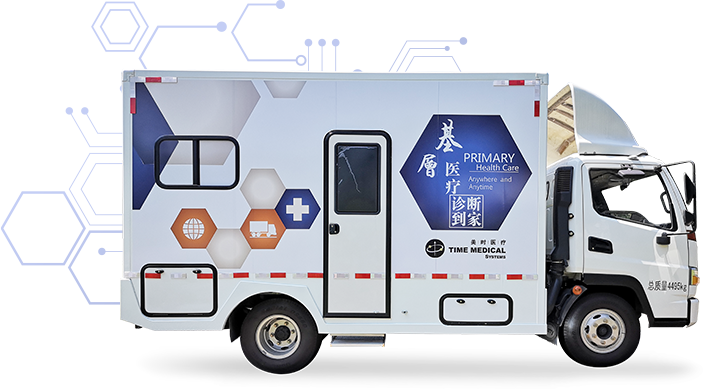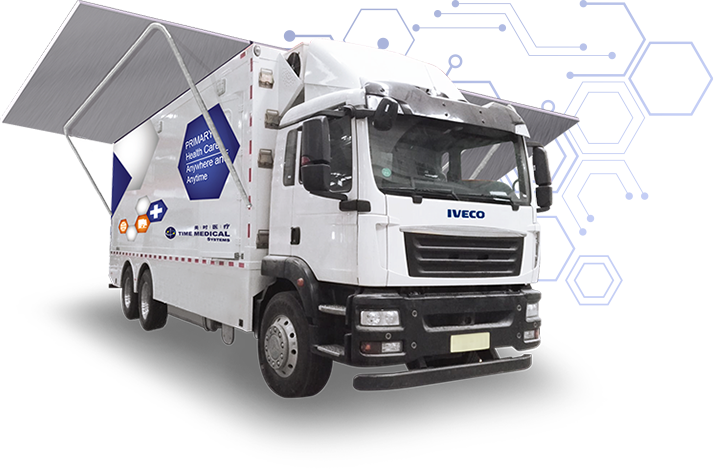 The professional DR system features dedicated vehicle-mounted stands, large-size flat panel detector, ultra-high-voltage generator, dedicated cushioning system, intelligent multi-position fixed/flexible positioning system, and intelligent diagnosis system. The system's small foot print saves valuable spaces on a vehicle, while modular yet compact design allows installation of other equipment such as ultrasound, blood testing and other testing stations in operating room.
The MMIS-X can be installed with a Time Medical developed cloud diagnosing platform, which further realizes functions such as intelligent image reading, remote diagnosis, and big data analysis.
MMIS-X utilizes the latest image processing solution with features such as detail enhancement, dynamic range compression, noise suppression, contrast enhancement, etc., that can be automatically matched with different needs, resulting in a greatly improved image quality – optimized for diagnosis.
With further implementation of the Belt and Road economic and trade cooperation, the mobile healthcare is considered to be an important market for healthcare manufacturers. The MMIS-X is well prepared for this upcoming trend.